With Market Insights, brands and agencies get a 360-degree competitive analysis about products and bestsellers on Amazon marketplaces. Discover your market potential and identify dynamics in the market to run data-driven investment decisions.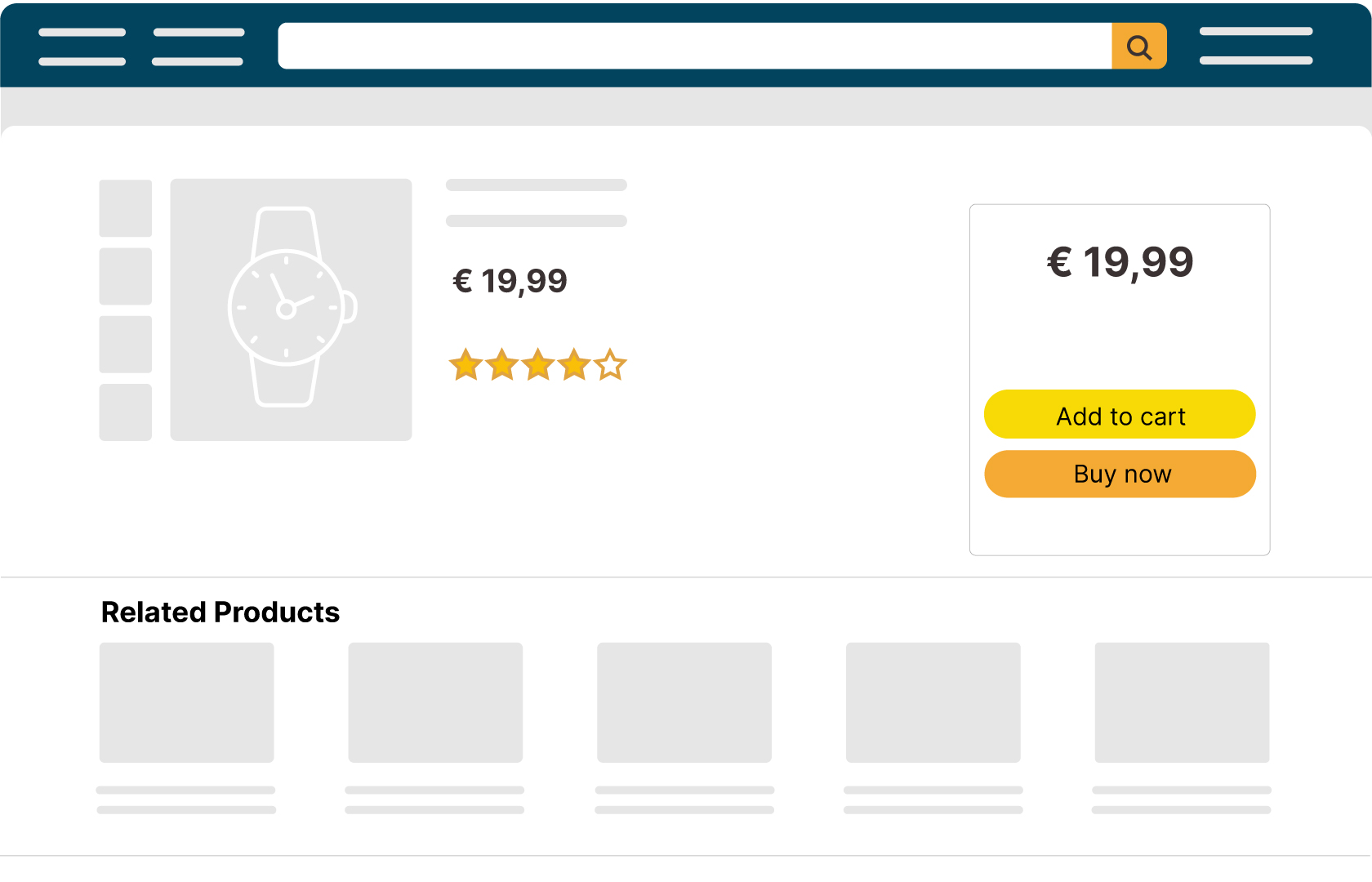 Analyze the visibility of your products
Compare the visibility of your products and the competition along the key touchpoints on Amazon marketplaces.
Market Insights offers you access to multiple reports based on:
Search results

Product detail pages
Bestseller lists
Start your market analysis with emax digital
Insights from search results
Use brand- and product-level insights from search result pages for all of your keywords. You can analyze paid and organic visibility of your own product portfolio and that of your competition.
Your insights in a nutshell:
What are the top-ranked products and brands?

How did product rankings change over time?

How brands and products are being shown in the search results for a specific or all of your keywords?

What is the visibility share of the top 10 organic and paid brands?

What are the average rating and pricing of your competitors on your search terms?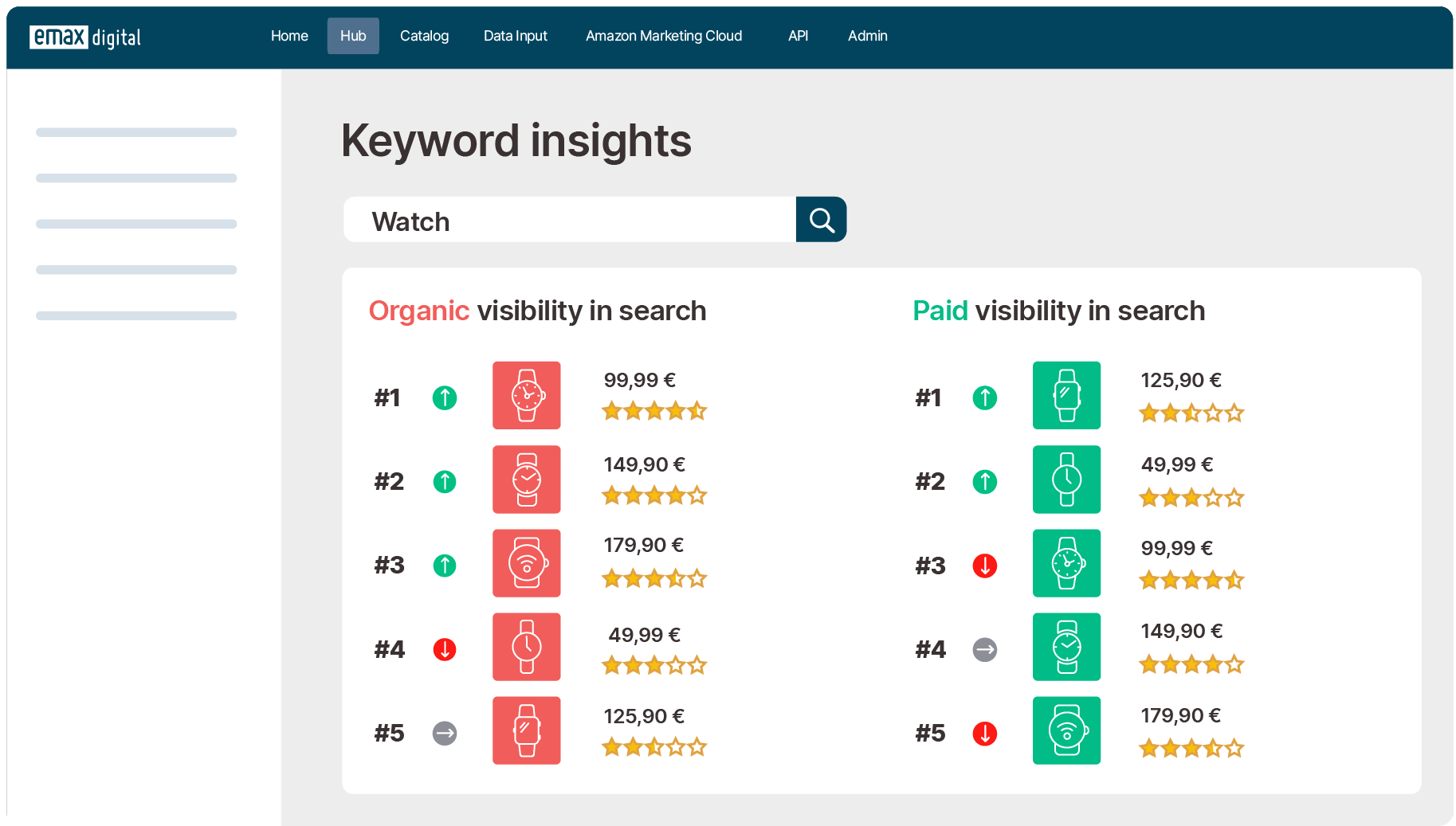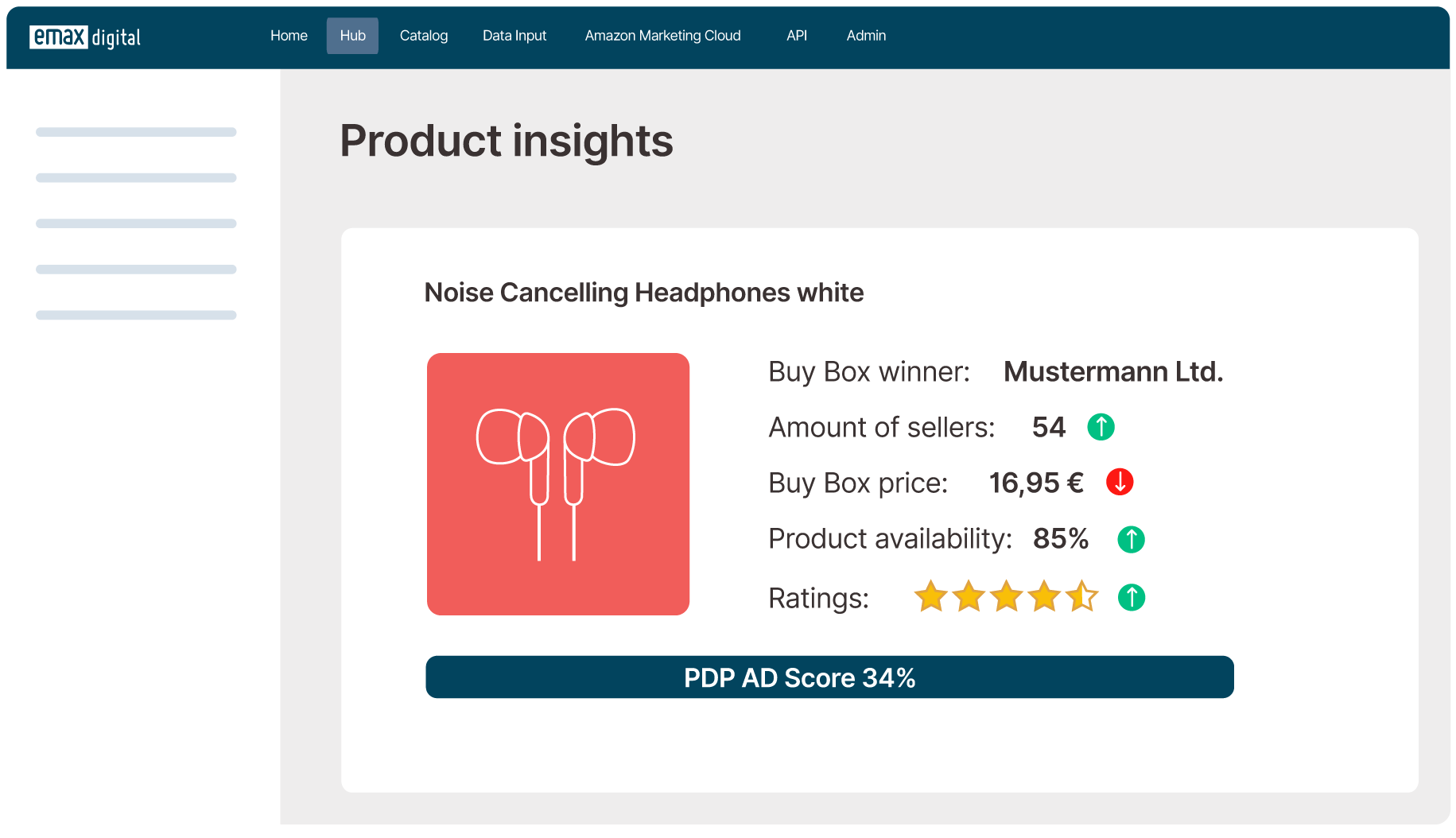 Monitor every product detail page
Get an overview of your competitor's product portfolio based on the information on their Amazon product detail pages.
Your insights in a nutshell:
Pricing in the buy box and price development
Buy box winner and number of sellers
Status of reviews & ratings and content optimization
PDP AD Score: Share of competitor ads
Benchmark yourself with the bestsellers
Look into the Amazon bestseller list of each category and find out which products and brands rank at the top and have the customer's attention.
Your insights in a nutshell:
How many brands are competing with how many products?

Which brands or products are leading the top 100 sales rank?

Are your products climbing up the sales ranks?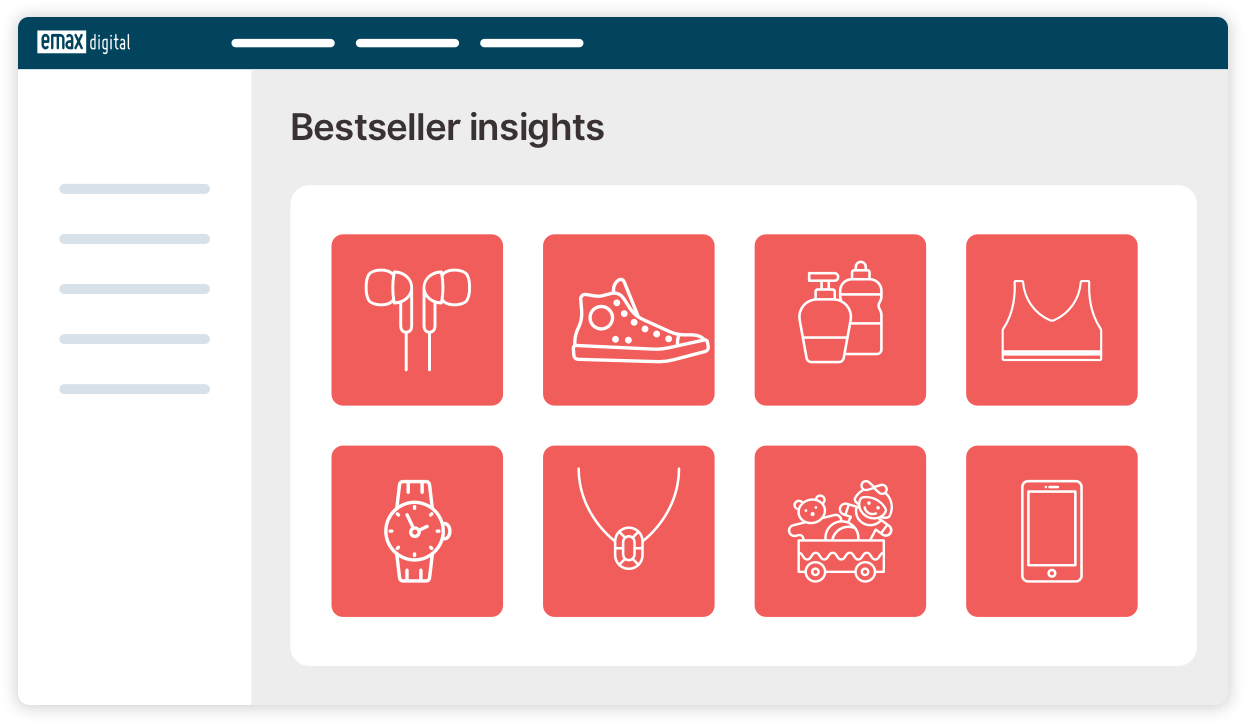 Compare the popularity of millions of keywords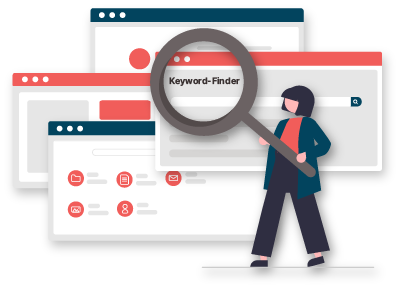 The Keyword Finder enables you to find the most frequently used keywords as well as the otherwise hidden longtail of search terms. Based on your categories and subcategories our technology automatically detects relevant sets of keywords that directly impact your organic and paid visibility.
Dive deeper into your Amazon business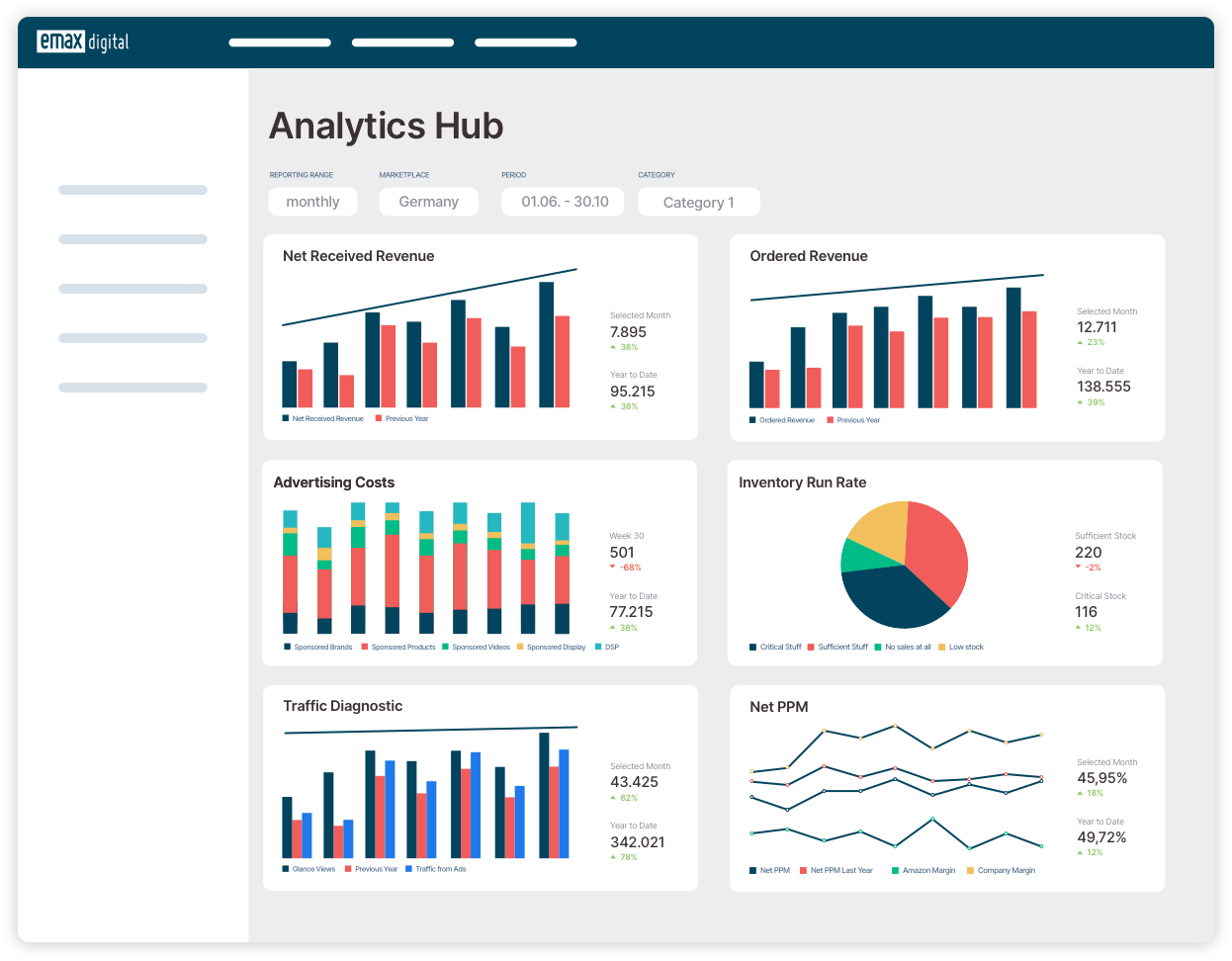 Meet the Analytics Hub
The Analytics Hub is an AI-based software, that helps you to manage your daily Amazon business and make the right decisions easily.
This is how the Analytics Hub can help you:
Analyze the main retail and advertising KPIs

Get valuable insights regarding your current product catalog and how to optimize for more sales

Allocate your advertising budget to the right products

Understand product seasonality and plan your year accordingly
Who should use the Amazon Market Insights?
Market Insights is designed specifically for brands and agencies to assist with data-driven market analysis along key touchpoints on Amazon marketplaces.
Do I need an Amazon Vendor Central or Seller Central account to access the reports?
No, you do not need access to Amazon Vendor Central or Seller Central. Using Market Insights, you can simply choose keywords, products and bestseller lists that you would like to analyze.
How many data points can I track?
You can track as many as you want. We are happy to tailor an individual offer based on your business requirements. Get in touch with our customer success team.