The key to success in e-commerce lies in smart statistics and AI driven recommendations. Our cloud based intelligence software, the Analytics Hub, helps you manage your daily Amazon business and make the right decision.

Reduce your Amazon business to the best
Vendors and Sellers face a huge complexity to run a globally, successful business on Amazon. We at emax digital have developed our own tool, with one simple goal in mind: Make Amazon analytics easy. That is how the Analytics Hub was born.
Meet one of the world's leading analytics & reporting software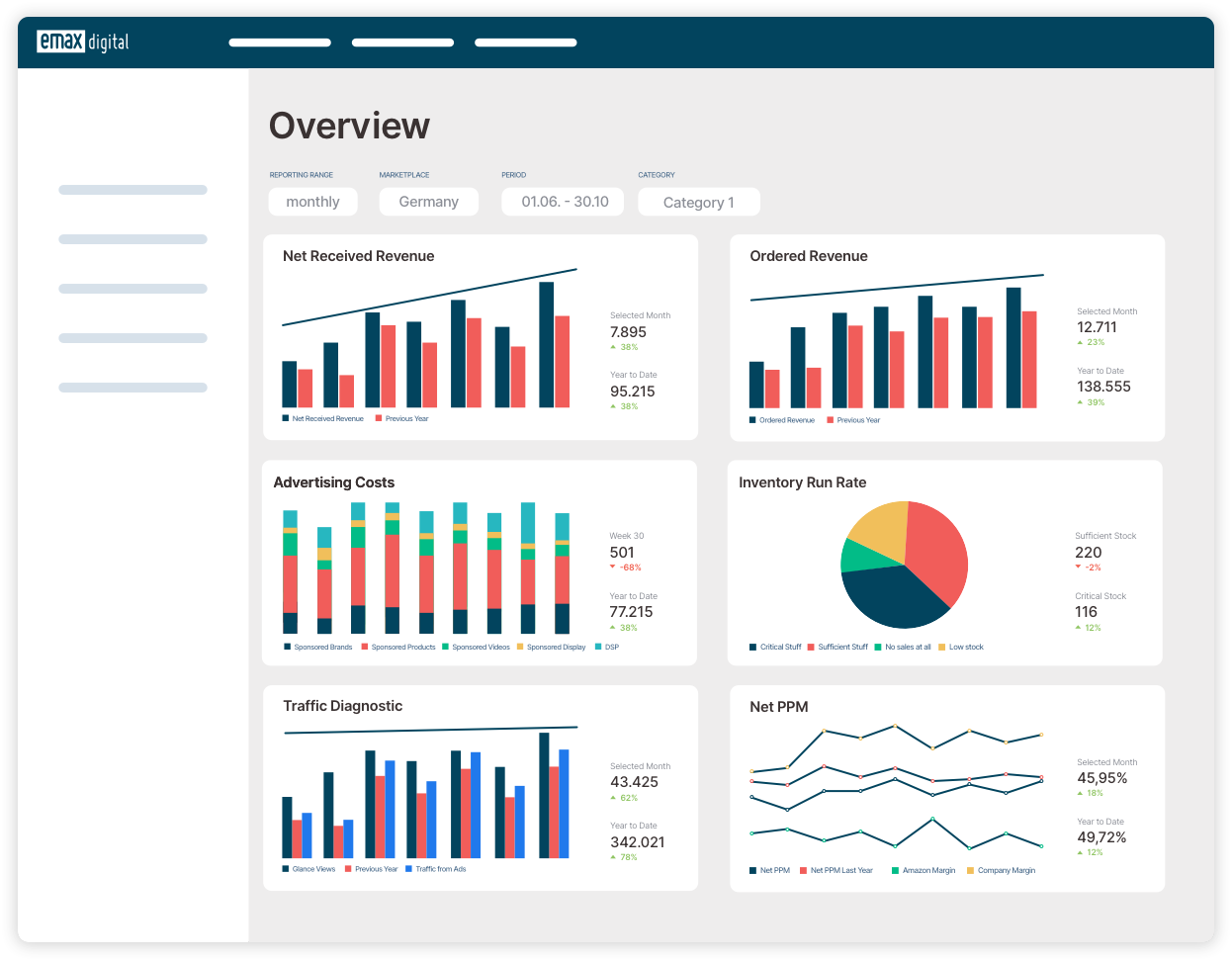 Use the Business Report for an overview of your retail KPIs
The Business Report is available for Amazon Vendors and Sellers on the Analytics Hub. It enables you to analyze the main retail and advertising KPIs of your Amazon business, in order to run data-driven decisions.
Run data-driven decisions by answering the following questions:
How did your sales develop over different periods of time?
What percentage of Sponsored Ads on your product detail page belong to your competitors?
What is the impact of increasing the advertising budget for Sponsored Ads or DSP on the traffic of your product detail pages?
What are your highest and lowest margin products?
Use the Portfolio Report to monitor your product catalog
The Portfolio Report is available for Amazon Vendors and Sellers on the Analytics Hub. It gives you valuable insights regarding your current product catalog and how to optimize for more sales.
Answering the questions below, help you to set-up a status-quo of your product catalog:
Do you still have enough products in stock to meet the demand in the following weeks?
How has the conversion rate of your products developed over different time periods?
At what price are your products selling on average and do you own the BuyBox?
How often does your product portfolio show up in Amazon's paid and organic search results compared to the competition?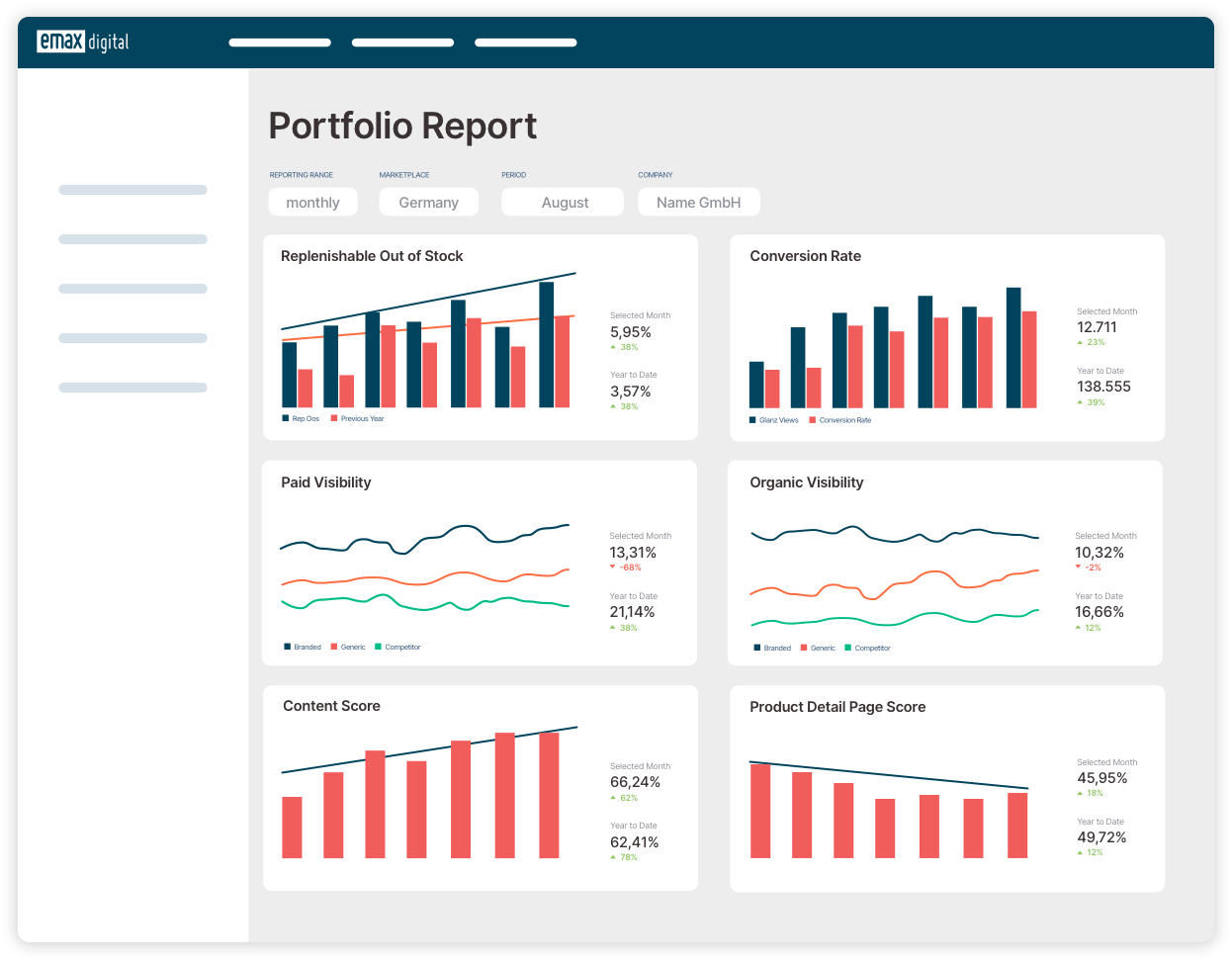 Analyze your complete product portfolio with a strategic view and plan your advertising budget
Analyze your whole portfolio along products or categories on a strategic level.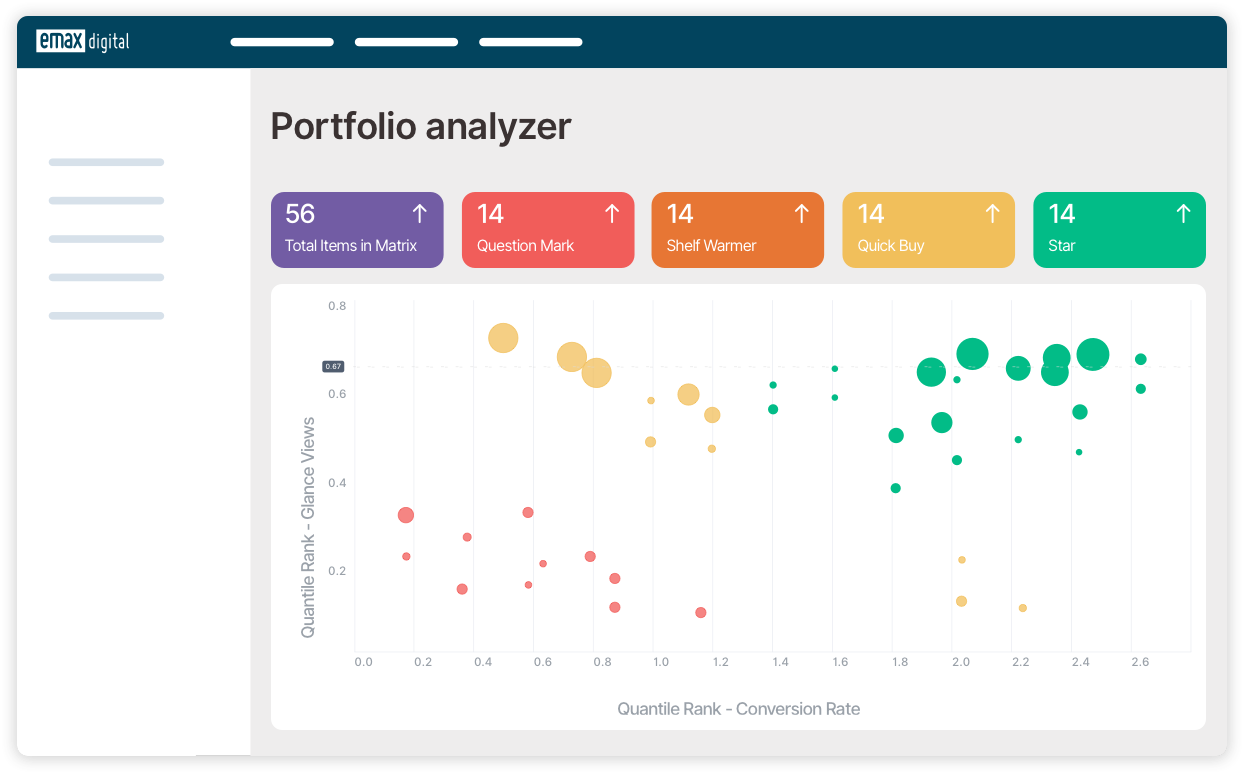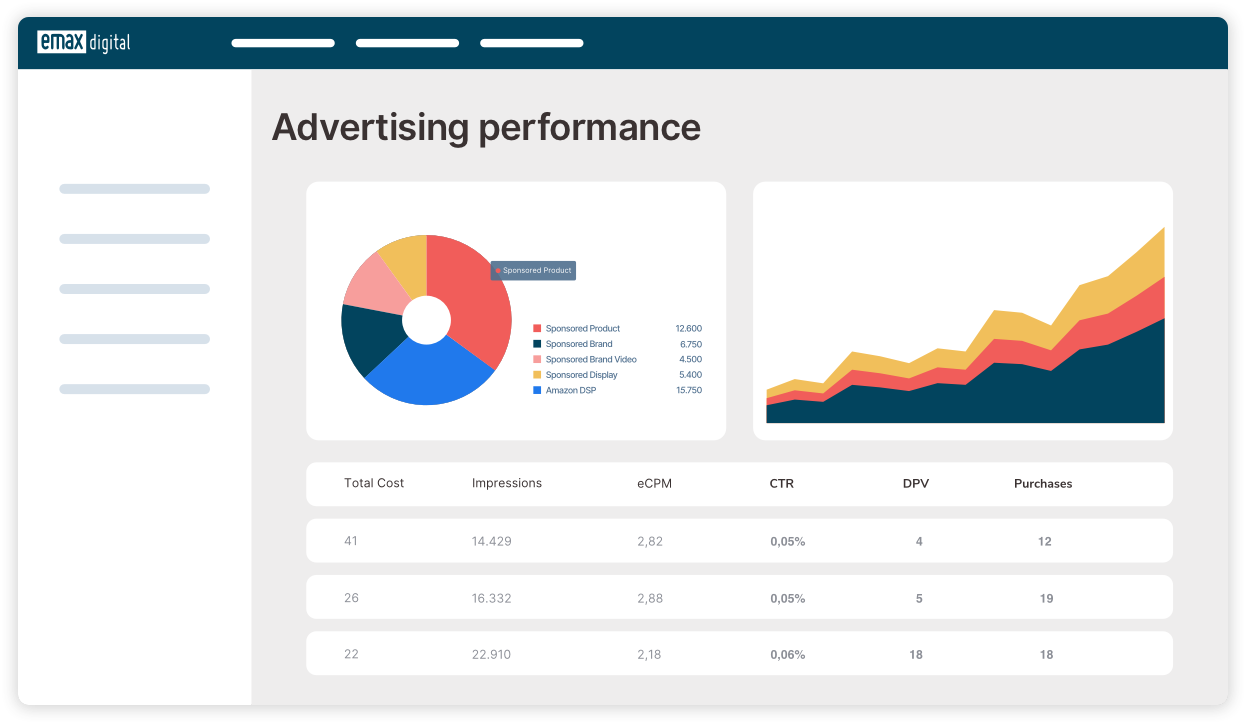 The Advertising Planner tells you when and how to spend your Sponsored Ads and DSP budget on Amazon. Are you allocating your advertising budget to the right products?
Understand the patterns and seasonality of your products on Amazon before you start planning a new year. Based on your historical sales data, activation and media investments we predict your sales on ASIN level.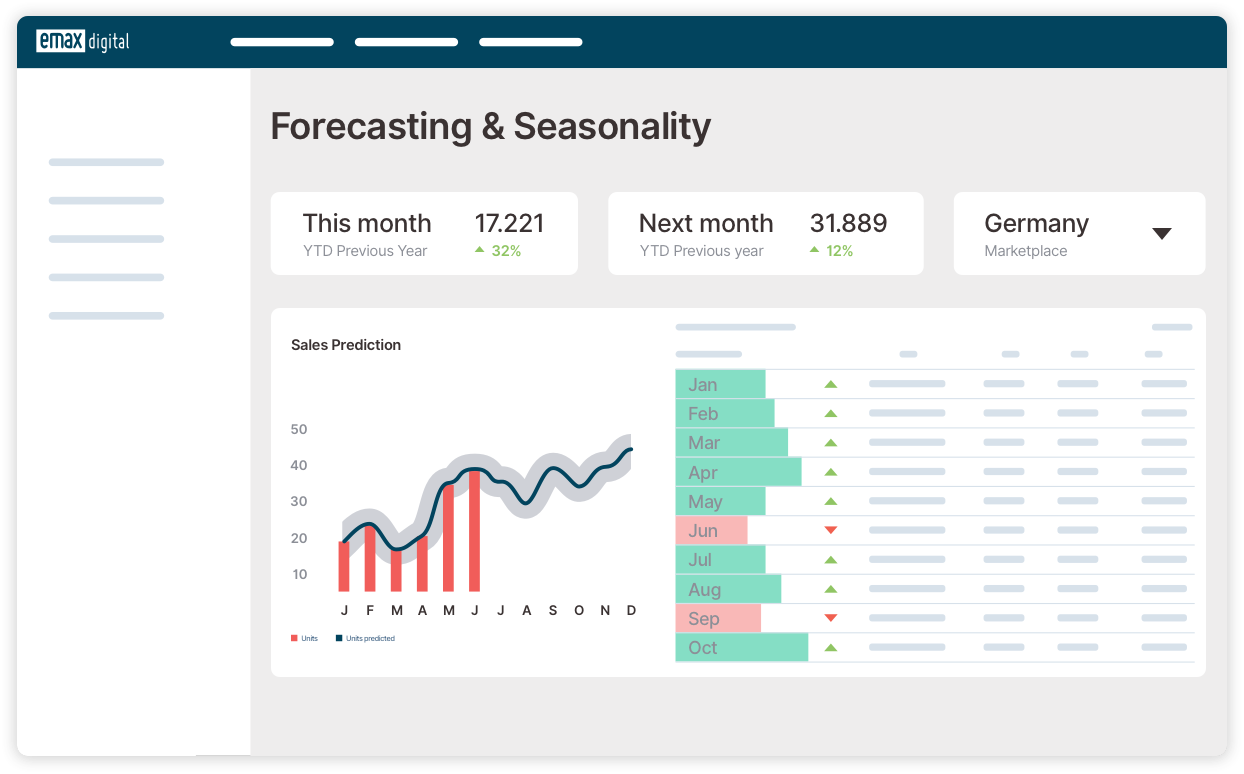 Tailormade to support your business growth

Tailormade reports
Make use of the Data Science as a service product offering to get a custom report that suits your special needs.

Your support team
A fantastic Customer Success Team team that supports you to get the most out of your Analytics Hub.
Success with the Analytics Hub: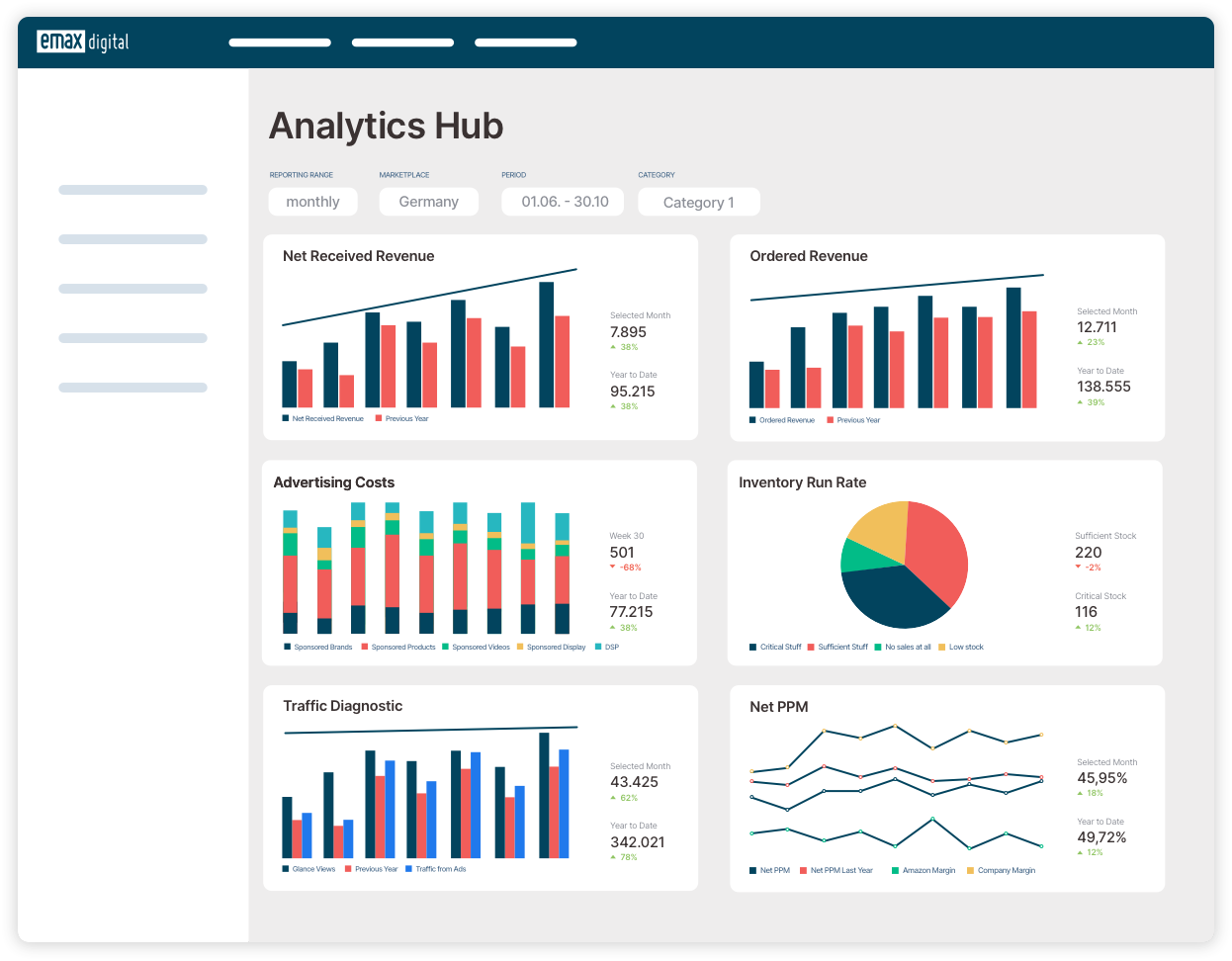 Attract new customers to your product
In search of greater advertising reach, a client decided to analyze the status quo of their campaigns on Amazon using the Analytics Hub.

The client used the Analytics Hub to understand his campaign performance on Amazon, what he was achieving and how the competitors were performing. With retargeting and new audience advertising strategies, he was able to increase his new-to-brand customers by 77%.
Optimize your product detail pages



In search of the reasons for the loss of visibility of his products on Amazon, a customer decided to use the Analytics Hub.
With the help of the Analytics Hub, the customer was able to identify the weak points of his product detail pages and optimize them based on recommendations. This enabled him to improve the visibility of his products.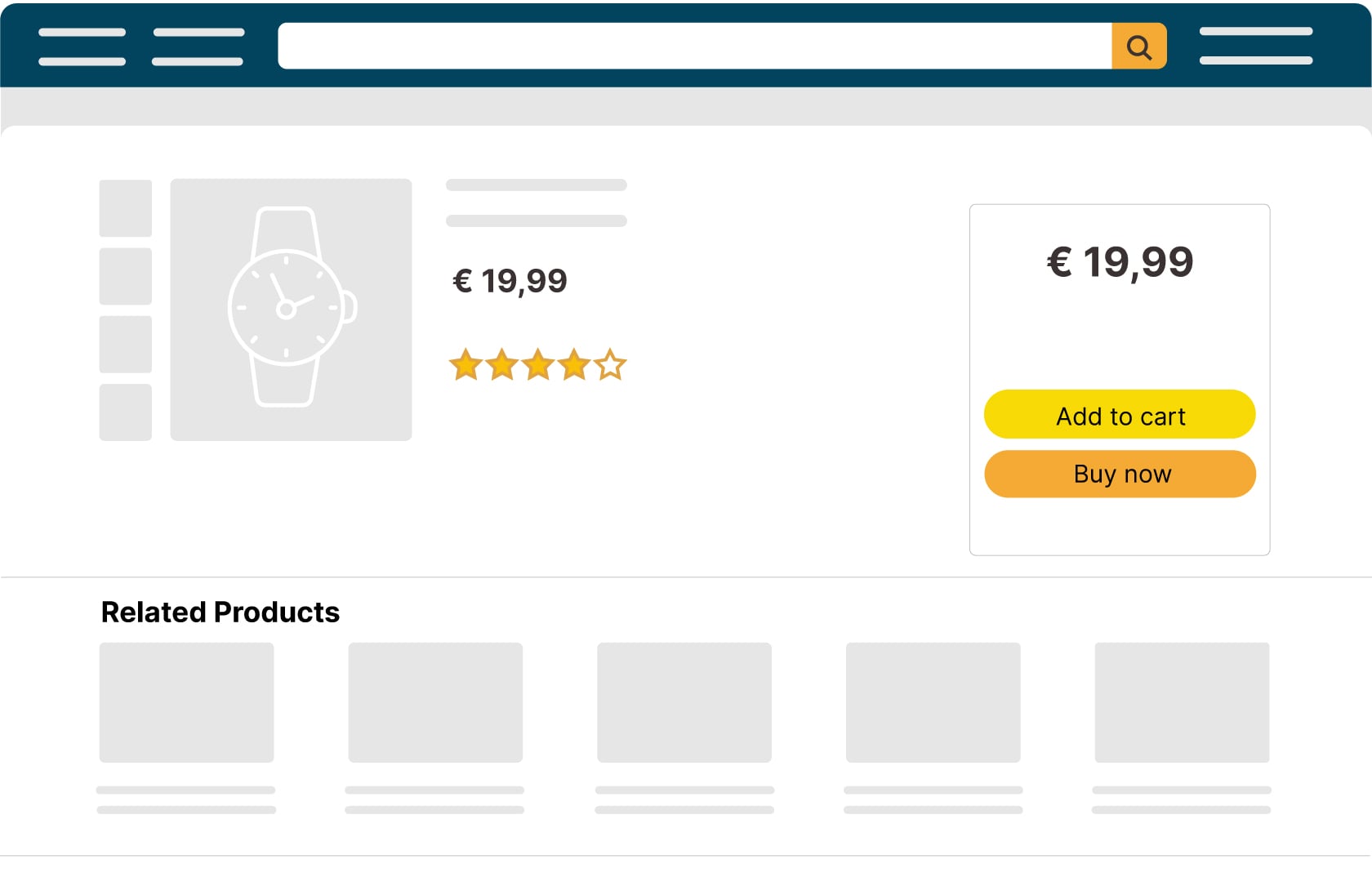 Trusting the Analytics Hub
If you are looking for a way of reducing the complexity of your Amazon business, these are some reasons why brands and agencies trust the Analytics Hub:
you have access to all data, making it a playground for e-commerce enthusiasts and reducing data to the essential use cases
you can monitor content and advertising-related activities on your product detail pages, with the help of intelligent KPIs
you are able to track the visibility of your product portfolio based on the most relevant keywords of the bestseller categories
you want to go international? No problem! The Analytics Hub is designed for multi-marketplaces
What is the Analytics Hub?
The Analytics Hub is a KI-based software developed by emax digital, with one mission in hand, namely to help brands and agencies better understand Amazon and the data that is available for them.
Why should I consider an Analytics tool for my Amazon business?
Amazon provides businesses with a lot of data, that is not easy to understand or is not displayed in a detailed manner. Furthermore, it is often necessary to check everything manually. With the help of an automated tool you are able to have a better overview of the data and have more success with your Amazon business.
What are the criteria to choose the right Analytics tool for my Amazon business?
It is important that the Amazon tool you choose, helps you with your Amazon business setup, but also identify problems you might have and help you prioritize.
What Amazon data can I check?
We use different 1st party and 3rd party data. 1st party data examples are the Amazon Vendor and Amazon Seller Central, Amazon Ads and Amazon Brand Analytics. We also use 3rd party data to provide you with information regarding the search results and detail page, for example. You can also add your own business data, for example cost, events or sales reports.
What can I achieve with the Analytics Hub?
Our tool does not only provide you with Amazon data, it also helps you to increase the sales of your Amazon business. Furthermore, it allows you to save on your costs, as well as reduce the time invested in checking your data on the Amazon account. If this was not enough, it also provides easy access to all essential data of your Amazon business.